Welcome to The Medical Education Center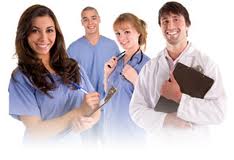 Are you new to the medical field and interested in becoming a national certified employee?
In recent years, medical assistants, phlebotomy technicians and medical front desk personnel have become more and more valuable in the doctor's office setting, clinics and the overall allied health field.  The medical field is one career not affected by the economy.  We rarely get laid off or have our hours cut.  This certification is transferable to every state upon successful completion of national testing.  National testing is offered on a seperate date to allow study time.
Not Furlong Temps dba The Medical Education Center is in Ashburn, VA.  Not Furlong Temps dba The Medical Education center provides hands-on skills on site needed to prepare you for the national test and an exciting role performing vital roles in physician's offices, clinics and related settings.  After the prep you may start working and take the national at a later date.  This lowers the cost involved.  Payment plans are offered with no interest or payment fees!  All forms of payment accepted.
Sessions offered are:
Medical Assistant with national
Phlebotomy with national
Intravenous (IV) ancillary skill
The benefits of obtaining national certification with Not Furlong Temps dba The Medical Education center are:
Small group size allowing more individual attention
Hands on practice/refresher
Evening sessions
Day sessions
Weekend sessions
National certification is completed allowing you to work almost anywhere in the US (some exceptions apply).
Not Furlong Temps dba The Medical Education center is managed and operated by Not Furlong Temps Inc. of Ashburn, VA.  National certification is done by MedCa and NHA.